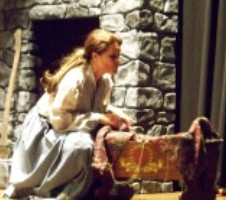 The legendary story of Frankie Silver
will be brought to life again at Draughn High School at 7:30 pm on Thursday, May 5. Burke County native Kim Cozort, who performed her one-woman show "Silver Shadows: Dark Side of a Mountain," at the Old Courthouse in Morganton in July 2014, is returning to perform the updated version.

The play was conceived and written by Ms. Cozort and is directed by her husband, Kenneth Kay. Since her previous performance, she has made considerable changes and has included Appalachian music composed by Dr. William Harbinson, who is a highly acclaimed composer and professor of music at Appalachian State University. Christian harmony music is also an added component. Cozort hopes that those who saw it at the Old Courthouse will return to see the updated show.

Frankie Stewart Silver is known as the first woman who was hanged in Morganton for murdering and dismembering her husband, 19-year-old Charles Silver, with an ax in the cabin they shared with their 13-month-old daughter, Nancy, on December 22, 1831. Silver's family then helped her escape from jail and disguised her as a boy, but she was caught and returned to prison. She was hanged July 12, 1833.

"Silver Shadows" is different from other plays about Silver's life because one person portrays the parts of 8 to 12 characters. "It's only me," says Cozort. "I play all the characters. Ken and I learned much from our first production. Comments and feedback from those who attended the premiere gave me some insight on how to rework the piece. I am very excited about the changes we have made and hope they will come back to see how the show has evolved."

Cozort says she has been completely intrigued by the story of Frankie Silver since studying about it in her fourth grade history class at Drexel Elementary School. "The story just stayed with me," she says. "When I started getting older, I thought: There's more to this. What happened? Did it really happen the way they say? I started investigating a little bit more. I didn't want to just know the facts. I wanted to know more about Frankie. Who was she really? And how could I make her real?"

Photos and trial documents about the Frankie Silver case are available for viewing at the History Museum of Burke County.

Cozort and Kay have been married for almost 25 years, and this is the 62nd show that they have been involved in together. "We love the work, and we love each other," she says. "We think the camaraderie with the work has helped us both with the work and as a couple."

A proud member of Actors' Equity Association, Cozort's representative roles include: Death of a Salesman/Jenny:Letta, (National Tour with Hal Holbrook), Dividing the Estate/Mary Jo, The Birds/Diane, She Loves Me/Amalia, The Pitmen Painters/Helen Sutherland, Candida/Candida, The Rainmaker/ Lizzie, Always, Patsy Cline/Louise, Hank Williams Lost Highway/Waitress (with Randal Myler), The Little Dog Laughed/Diane and The Goat, or Who is Sylvia/Stevie: (Metrolina Theatre Award). A multiple Carbonell (South Florida award for theatre excellence) nominee and winner, Kim has shared the stage with fellow artists June Havoc, Charles Nelson Reilly, Elizabeth Franz, Richard Kind, and her husband Kenneth Kay. She is proud of her collaborative work with playwrights William Mastrosimone and Israel Horowitz. Opera highlights include: Die Zauberflote/Papagena with Miami Grand Opera and The Student Prince/Princess Margaret with OperaDelaware. Television credits include The Glades, America's Most Wanted, and Burn Notice. Currently, Kim can be seen on Netfilx's Bloodline as Tanya Stone.

"Silver Shadows" is sponsored locally by the newly organized Burke Theater Guild. Tickets are $15 for adults and $8 for students 18 and younger.

Advance tickets are available at the History Museum of Burke County, the Drexel Town Hall, the Rock Drug Store in Valdese, and Draughn High School.